Every year the Board of Studies, Teaching and Educational Standards (BOSTES) releases Exam Workbooks from the previous HSC year. They look something like the image below.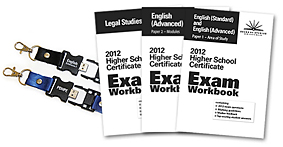 These Exam Workbooks have in them a variety of useful resources which are great if you need some guidance. They include:
the exam for the year
samples of top-scoring students' responses
marker's comments
marking guidelines
They can be purchased through Board of Studies NSW online store. The workbooks are available as hard-copies for a variety of subjects which include:
Ancient History
Business Studies
Chemistry
Earth and Environmental Science
Economics
English (Standard and Advanced) Paper 1
English Standard Paper 2 – Modules
English Advanced Paper 2 – Modules
English (ESL)
Geography
Legal Studies
Modern History
Textiles and Design
Visual Arts
They are also available on a USB drive with lanyard for:
Personal Development, Health and Physical Education (PDHPE)
English Extension 1
Recently, however BOSTES have made them available as ebooks too!
The ebooks are available from iTunes in the following subjects:
Business Studies
Chemistry
Economics
Geography
Textiles and Design
Visual Arts
"They have easy tap-through navigation and provide interactive, portable, full-colour reproduction of exams and student works and connectivity between each exam question and responses, so they are very easy to use."